Finance

SF 07 21 03



ANTS IN THE PANTS AT UNION SQUARE

by Elizabeth Garone




It started this spring with FAO Schwarz. After more than 30 years in two Union Square locations, the fabled toy store shuttered its doors. The company's last and best-known site, 37,000 square feet at 48 Stockton Street, is still vacant.
Also slated to close this summer are outdoor clothing manufacturer Eddie Bauer and upscale British men's clothier Alfred Dunhill, which enjoyed a 42-year run on Union Square. Eddie Bauer and Dunhill share a single building on Post Street.
But not all is bleak for the City by the Bay's premier shopping district. French luxury brand Hermes recently relocated from a few blocks outside Union Square into the heart of the district on Grant Avenue, doubling its floor space to 4,400 square feet.
And Apple Computer recently signed a lease for its first San Francisco retail store, which will open next spring in a 17,000-square-foot space at One Stockton Street formerly occupied by cosmetics and bodycare company Sephora. Sephora relocated in June to a storefront half the size a few blocks away at 33 Powell Street, near the cable car turnaround.
"It could be worse. It could be better," said Kazuko Morgan, senior director with real estate services firm Cushman & Wakefield. Morgan attributes Union Square's recent woes to a "quadruple whammy" that has struck over the last six months: expiring leases, expensive seismic retrofits, loads of bankruptcies and a drop in tourism. Retail vacancy rates for Union Square are at 3% and rising, according to Morgan. Availability is approximately 14%.
But Morgan remains optimistic. "For all the negatives, there are a lot of positives," she says, rattling off a list retailers slated to move in or expand in the area between this fall and early spring. Among them are Forever XXI, Armani Exchange, Williams Sonoma and Benetton. Much of the new traffic is different than that of years past, according to Morgan. With the exception of Hermes, the real high-end boutiques (and the $300-plus per-square-foot rents that went with them) have

given way to the Gaps and the Urban Outfitters of the retail scene, she says.
Still, the clientele hasn't changed that much, says Linda Mjellen, executive director of the Union Square Association, a merchant alliance. "The changes that we're seeing are due to a normal business cycle," Mjellen says. "We will always retain the luxury retail niche that we've always been known for."
Union Square isn't the city's only retail neighborhood feeling pain. There's turnover-or maybe just turn-in South of Market, at the Metreon, a Sony Entertainment Center. On May 30, the Metreon lost a flagship tenant, the Discovery Channel Store. The Discovery store, owned by Disney, was one of the Metreon's original tenants, opening with the center's debut in June of 1999. Today, the 10,000-square-foot space at the entrance to the Metreon sits vacant, with the Discovery logo still on the windows and a brightly-colored tile mosaic on the floor the only remnants of the space's past.
No deal for a new tenant has been signed, although Metreon spokeswoman Kirsten Maynard insists the space is attracting "quite a bit of interest." Morgan, of Cushman & Wakefield, thinks it will be some time before a new tenant is found. To be successful, that tenant needs to be "a big draw," like a Barnes & Noble or a Gameworks, she says.
Part of the interest Maynard describes is due to the June opening of the $191-million Moscone Center "west" convention center, with three floors totaling 770,000 square feet of meeting and exhibit space. Last year, the number of visitors to San Francisco dropped off by 12.5% and spending fell by 9% compared with the previous year, according to the San Francisco Convention & Visitors Bureau.
Moscone West is off to a great start. There are 82 events booked for this year and another 89 in the works, according to Morgan. Voters approved the massive project seven years ago when the city was in the midst of the dot-com boom.
Attendees at the recent Worldwide Developers' Conference only needed to cross Fourth Street to the Metreon's upscale food court for a bite to eat or to catch the latest blockbuster at its state-of-the-art 15-screen Loews Theatres Metreon. But it remains to be seen whether the conference crowds will supply serious shoppers as well.
Disney's experience was that the Metreon's 6 million annual visitors come to eat and to be entertained, says spokeswoman Pamela Rucker. "But that doesn't necessarily mean they want to go shopping," she says.
"It's a great venue for entertainment, but the retail traffic just wasn't there."
The City of San Francisco, meanwhile, wants to keep retail traffic strong at Union Square by maintaining a sunny and welcoming atmosphere. In the past few years, the area had become dirty and increasingly populated by homeless people.
The city spent $25 million to give the square a much-needed redesign, under the direction of project architect Mike Fotheringham. Visitors had to put up with 18 months of construction. What was unveiled last summer was a flat, concrete and granite area with some grass and flowers, the square's signature palm trees, an outdoor cafe, and benches.
The new design generally has been received positively by the San Francisco community, especially local merchants. "It (the square) is used so much more than it was in the past, and that was a primary goal," says Mjellen of the Union Square Association. "Now, it has something for everyone."
As for the still-too-few tourists? "It's nice, it's clean," said a middle-aged man visiting from the Netherlands sipping an espresso who chose not to give his name. "But isn't it a little boring for San Francisco?"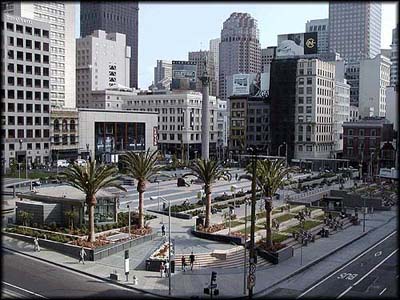 M.D. Fotheringham
Eighteen months and $25 million later, a new square has emerged.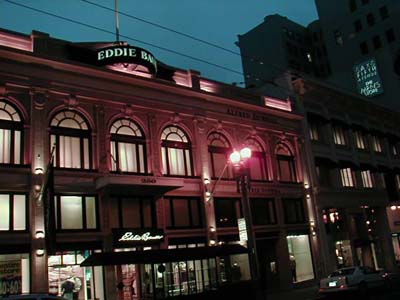 Elizabeth Garone
Eddie Bauer and Brit clothier Alfred Dunhill are abandoning the building they've shared.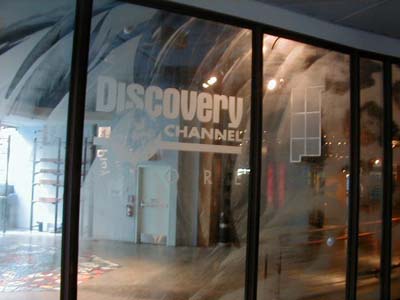 Elizabeth Garone
In South of Market, the Metreon has lost an original anchor tenant.