Unwired
When it comes to cyber cafes, the Valley doesn't amount to a hill of beans
By Liz Garone

In San Francisco's South of Market neighborhood, caffeine/Net junkies can get a fix in at least three cyber cafes. There's Cyberworld with 12 terminals and California cuisine, CoffeeNet with six terminals and espresso shots, and Internet Alfredo, where users can get access 24 hours a day everyday while they munch on biscotti and sip double latt&eacutes.

But if you're looking for a spot in Phoenix to indulge in the national cyber cafe fad, well, you're better off leaving town. You're going to have to head for the hills of Tucson or Flagstaff -- or settle for the few Valley cafes that have added one or two computers as afterthoughts. The cafe/computer connection in the Valley is limited to three spots: Charlie's Espresso on Mill Avenue in downtown Tempe (better known as Kelly's Cafe and Bakery, its former name), the Balboa Cafe (which is really a bar), also on Mill Avenue, and Beanhead Coffee Company on Chandler Boulevard in Ahwatukee.

That about sums up the Valley's cyber cafe scene: a wimper at most next to the Net-connected cafes percolating in Seattle and San Francisco, the West's coffee capitals. In fact, cyber cafes are popping up just about everywhere else around the nation -- from Denver to Sacramento to Boston. Corporate chains are now getting into the act: Cybersmith, a cafe-software dealer hybrid, boasts upwards of 45 terminals in each of its four U.S. locations (New York, Palo Alto, Boston and Harvard Square). Likewise, that 800-pound caffeinated gorilla, Starbucks, has ambitious plans to bring its cafes online. And Apple Computer officials say they will open the first "Apple Cafe" later this year in Los Angeles.

But in Phoenix, digital cafes are as few and far between as a good cup of coffee. Even Tucson's newly-opened Library of Congress cafe boasts more computers than do all of the cafes in the Valley combined -- 10 T1-connected terminals, including one for desktop publishing, and another for "library card holders" to send and retrieve e-mail. "This is an idea whose time has come," says Dan Vinik, manager of the Library of Congress. "People have to realize that it's a social event to go on the Internet and to do things around other people in a cafe environment." In the three months since the cafe's opening, some 40 people have shelled out the $5 monthly fee for e-mail accounts. Vinik expects that number to grow quickly.

So, why no caffeine/Net buzz here in Phoenix?

According to Vinik, there is no reason why the cyber cafe scene couldn't be successful in the Valley, the way it is in Tucson and other cities. But whoever gives it a shot is going to have to be well-financed and organized, he says.

If they aren't, they may end up going the way of Phoenix's Bean Tree Coffeehouse. Owner David Clark thought an Internet connection was a natural extension to his cafe: "Our whole coffeehouse is designed for people just to hang out, to sit down, relax, and enjoy themselves. So, we thought we'd offer something other than books and games." For a couple of months last summer, Bean Tree had three computers online for customer use. But the service was short-lived. Clark had set up a deal with FutureOne, a local ISP, whereby the cafe could use the computers in exchange for promoting FutureOne and a percentage of the hourly rates charged to customers. But hardly anyone used the computers, says Clark, and when they did, they needed help navigating the Web, or the connection was too slow. Clark ended up paying a lot for a service he hadn't expected to cost anything. "I still think it was a great idea," he says. "It just wasn't executed right."

The Bean Tree isn't the only place in the Valley to have tried a computer-coffee blend and failed. The Congo Cafe in Scottsdale attempted it, but cheap ramen just didn't cover the costs. Options Restaurant in Phoenix was connected for a while, but one too many hang-out-all-day-and-sip-the-same-diet-cola types shut the computer down, according to manager George Wilkinson.

It's clear that the Valley's current cyber hangouts aren't in it for the money, at least not the money they collect directly from customer use. The Balboa Cafe doesn't charge at all; Charlie's Espresso only recently started imposing a fee (the first hour is still free, and after that, it's a rarely-instituted $3 an hour), and Beanhead Coffee Co. offers everyone a free first session. Compare these rates to the Library of Congress, where users are charged a strict hourly rate from day one ($5 for card holders, $6 for everyone else), or Alt.Coffee in Manhattan where $2.50 will get you a mere 15 minutes online.

Charles Mitchell, owner of Charlie's, doesn't appear too worried about how much revenue he draws from his cafe's corner PC, just as long as he breaks even. His justification for installing the computer was "partly selfish," he says. The cafe records are kept on the computer, and Mitchell, his wife, or son can often be found surfing on it.

Brian Moakley and Jeff Whitfill often meet at Charlie's to have a cup of coffee and surf Micro Roasters, Moakley's Web-based coffee ordering company. Moakley says he's always on the lookout for new cyber cafes and has been rather disappointed by the lack of an online scene in Phoenix. "It's a great way to do business," he says, as he munches on a cinnamon roll. "I just wish there were more of them around."

Much of Phoenix's hesitancy to invest in a cafe and/or online scene could be traced to the weather and lack of a cafe culture in general, says Steve Ginsberg, San Francisco Business Times' technology reporter. "To me, Phoenix is a hot place," he says. "Here [in San Francisco] today, it's 40 degrees, it's drizzling. It's kind of nice to be inside with some great coffee, a fireplace, and a terminal. People hang out in coffee shops. I see people with berets, notebooks and pens, writing poetry. There's a coffee society here." Compare that to Phoenix, where only a year ago Starbucks was pretty much a foreign word.

David Mendoza, a Valley Internet consultant who installed the PC at Charlie's, believes Phoenix's cyber and cafe scenes are still in the pre-natal stage. Mendoza is convinced the birth is coming, just a little late. "I guess Phoenix just doesn't have that [cyber] cafe concept down yet," says Mendoza. "We're still just a bit of country."

If Clark, owner of the Bean Tree and a Phoenix native, is correct, we'll be well into the next millennium before the cyber cafe scene finally lands in Phoenix. "Phoenix is behind the times by at least 20 years in everything," he says. "Just look at the freeways. The ones that are finally getting built now should have been built back in the 50s."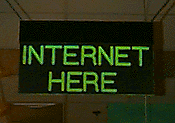 Internet access at Charlie's Espresso on Mill.
photos by Liz Garone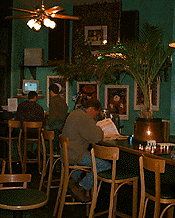 Charlie's corner PC.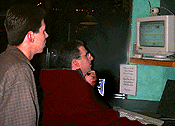 Moakley and Whitfill surf www.microroasters.com.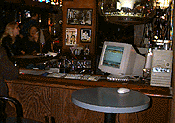 The Balboa Cafe's forgotten PC.