Liz Garone: Zen and the Art of Beach-Combing
-- by John Silliphant
She loves the beach. Absolutely LOVES it!
Flipping through the pages of a photo album, one little girl stands out. Liz Garone. With curly, brown hair and big, bright eyes, in page after page, she's beaming with joy.
Liz is now all grown up, which begs the question, "What does that mean?" By glancing over her resum—z, her academic achievements and awards, and her long list of published works, one would easily come to the conclusion that this freelance journalist,
who writes for major publications like The Washington Post and the San Francisco Chronicle, must be pretty mature. But as soon as you talk to Liz about the beach, forget it! That little girl in the photos - the one beaming with joy - is fully present, and running the show.
"Heaven, for Liz, would be a sunny day at Stinson Beach searching for seaglass with her mother Dotty, sisters Trish and Denise, and their kids," says Liz's husband, Donar. "If she isn't at the beach with one of them, she's on the phone with one of them planning the NEXT time they'll be at the beach together."
Liz shares a very tight bond with her family that was strengthened when her father became critically ill more than 10 years ago - a bond that hasn't lessened. "Not a day goes by when Liz hasn't spoken to her mother and at least one of her sisters no matter where any of these people might be located on the planet," says Donar. Whether they are at the beach, traveling, on the phone, or just in each other's presence, Liz cherishes those near and dear to her, including her beloved cat Sukie, which means "love," in Japanese.
Liz was particularly close to her father, Vincent. He was a brilliant man, an Italian-American, who spoke five languages. His ashes were dispersed in the ocean, and Liz has dozens of stories of different oceans and seas, even one where her father taught her to swim when she was hardly old enough to walk yet. She misses him immensely and feels a deep connection to him at the beach. An important lesson that he left her, Liz recalls, is that "as long as you're not doing anything to hurt anyone, you should do what you enjoy" - a lesson she has taken very much to heart.
Enjoyment is a necessary part of whatever Liz does, as clearly evident in her writing. In high school, for instance, her class was given an assignment to write an essay and to be creative. She wrote the essay, then proceeded to cut it up into little phrases which she then inserted into fortune cookies with tweezers. The next day, as all the students were turning in their papers, Liz dumped out the pile of fortune cookies on the desk. She got an A.
It was only a matter of time before Liz's talent for writing gained recognition from those around her, particularly from an influential high school teacher/surfer. After high school, she took a year off and worked at just about every job under the sun. From camp director to deli worker, from baker to insurance rep, she covered them all, then headed off to U.C. Davis where her writing would quickly flourish.
A great attraction to journalism for Liz is that "it's a great excuse to connect with people." One of her early writings, a piece about the logging industry and its impact on a homeless man, would leave a lasting impression. As a direct result of her article, he was given a job and a home, and Liz soon realized not only the social impact she could make as a writer, but also the value of telling people's stories that might not otherwise be heard.
As a budding writer, Liz insisted on writing only about subjects that really interested her - a decision which not only kept her content, but got her noticed. She won awards for pieces on subjects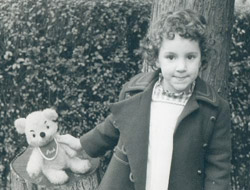 like olive oil and circumcision parties. As her fascination in American culture grew, she was awarded a $1000 grant to sit back at the North Beach caf—zs in San Francisco, observing the blending ethnicities of the Chinese and Italian communities. She was soon whisked away to Paris on an academic scholarship, and years later, at the end of her studies at Columbia's Graduate School of Journalism, she was sent off on a scholarship to Finland with a few other select journalists on a mission to write something great. While all the other journalists busied themselves with profound pieces on the current political and diplomatic relations that occupied Finland, Liz, focused on its saunas.

This brings up another attraction the ocean has for Liz. "She's always trying to cross it," reflects her husband, Donar. "Whenever she's at the ocean, she always seems to look out as if she can see the lands on the other side." And cross it she hasä many times.

Liz has travelled the world over, not just taking in the sites, but absorbing them. "Traveling makes me worldly," Liz expresses - simple, yet profound. "The instant Liz sets foot in a new culture, she becomes a member of that culture," notes Donar. "She doesn't visit a country; she becomes a citizen. That's why when you listen to her talk, you have no idea what kind of accent she has. At one moment, you detect a thick dialect and will be sure she's a New York Jew, and all of the sudden, she says "'ita daki masu'" - which is Japanese for "'we give thanks for the food we're about to eat" ' - only she'll say it with an Italian accent!"

Traveling, in fact, is what brought Liz together with her husband, Donar. On their way to teaching English in Japan, they sat only a few aisles away from each other, the only vegetarians on board. When they were served up a "spaghetti sandwich," it was so unbelievably gross, they couldn't help but share a laugh.

During the course of her journeys, Liz came to hear about CharityFocus. She was quick to write a story, which was published on the front page of several newspapers, helping to propel CharityFocus further and faster into what it has become. While interviewing its founder, Nipun Mehta, Liz found his enthusiasm and the basic spirit of CharityFocus so refreshing, she couldn't help but become a volunteer. As a writer interested in telling the stories of people that might not otherwise be heard, Liz gave birth to Everyday Heroes, a collection of volunteer-written stories of everyday people, who have made a decision to be of service. Of course, you are reading one of those stories right now. Little did Liz realize that her brainchild would soon come full circle and turn the tables on this roving reporter, making her the inevitable subject!

"It feels so much better to volunteer than not to do it," Liz says. "It's important to be doing something that has nothing to do with money." Liz volunteers as a writing buddy at eBuddies, is known as "Liz the Word Wiz" at Pre-Teen Planet, and is the chief editor at CharityFocus. She admits that her work at CharityFocus carries with it a little guilt. "I don't know why, but for some reason I feel like service work should be somehow difficult, a sacrifice. When I volunteer with CharityFocus, I feel a little selfish, like it shouldn't be quite so positive, so fun and easy."

But combining fun and work is something Liz just can't seem to avoid. Liz's uncle once told her that "you can do whatever you want to do; you just have to figure out what that is and do it." And so she goes through life, doing what she wants, trying all sorts of new things, in a spirited adventure to "figure it out."

Some of her other joys include collecting things like Buddhas, seaglass (big time), and other knick-knacks. She also loves to garden, swim, hike, and do anything that involves nature. She loves crafts, photography, and is a huge movie fan. She loves people, adventure, writing, and travel and has been able to bring them all together seamlessly through journalism. Will she have a child, write a novel, open a cafe, and run a marathon - some things that are currently on her mind? Liz? Of course!

[ email liz ]

© CharityFocus 2002

<< back