Achieving the Impossible At Creative Bubble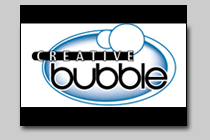 When former employees of Internet solutions provider iXL bought the company's New York video division, iXL Digital Video Group, earlier this year, they christened the new company Creative Bubble. When the newly formed company needed to expand its editing solutions, the principals chose Avid. "That choice was easy," says Executive Producer and Principal Carl Levine. "For the professional user, Avid systems are the de facto editorial standard. Anything that we do has to be done first-class, and that is why we use first-class equipment."
Creative Bubble purchased two Avid Symphony systems and an Avid Unity MediaNet system with three terabytes of storage to integrate with the three Avid Media Composer systems already in use at the company's headquarters. The Silicon Alley design house provides video and interactive solutions for broadcast, commercial, cable, and corporate clients. Some of Creative Bubble's best-known clients include MTV, Nickelodeon, Sony Music, Sesame Workshop, Discovery Kids, Disney SoapNet, ABC Sports and News, ESPN, and Showtime.
Elmo's Avid Unity World
Creative Bubble Senior Editor and Principal John Tierney has edited "Elmo's World" since its premiere in 1998 on Avid Media Composers. The show is very complex, with many different elements, including blue screens, computer-generated puppets, animation, and film pieces, according to Tierney. A five-time Emmy award recipient, Tierney says that he likes to leverage the advantages of the Avid Unity shared storage solution while editing the show whenever possible. He remembers a particularly tight deadline and how he was able to cut different parts of the show simultaneously in different edit suites.
"The ability to access the same material and cooperatively edit the show in multiple rooms saved a great deal of time and allowed us to give each segment the attention it required. The client was thrilled with the capability and is now incorporating this feature into their post-production planning. Avid Unity really changes the way you can approach a project," says Tierney.
Meeting Tight Deadlines
For Senior Editor and Principal, Pat Carpenter, Avid Unity MediaNet's ability for multiple users to simultaneously use the same media is one of its biggest draws. "Frequently, we have projects on very, very tight deadlines. What Avid Unity allows us to do is have multiple rooms working on the same project using the same media. I really didn't know how much it was going to change our facility's work flow but after working on Avid Unity, I couldn't imagine Creative Bubble without it."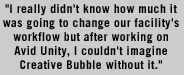 When punk rock icon Joey Ramone died earlier this year, Creative Bubble offered its editing services without charge to the family for a tribute to the musician. Carpenter remembers just how tight the deadline was. "The concert in his memory was only five days away, so we had a lot to cut in a short period of time for that, and Avid Unity allowed us to do it." In that time, Creative Bubble's editors needed to create eight video segments, 10 minutes each in length, for roll-ins to the tribute. "It would have been impossible without Avid Unity," adds Carpenter.
With more than two decades of experience in the business, Tierny says that working with Avid Unity offers a radical change from the past when media couldn't be shared. "You were forced to digitized media multiple times or swap drives. Avid Unity is an elegant, reliable solution."
Monetary Reward
Saving time wasn't the only feature that attracted Carpenter and the rest of Creative Bubble's staff to Avid Unity. It was also the financial savings. "For us, as a facility, instead of having to buy additional drives or individual drives, it represents a cost savings that we can pass along to our clients."
It Works
Levine says Creative Bubble had a number of editing systems from which to choose, but they bought the one that had already proven itself time and time again. "The reason we went to Symphony is because our Media Composer systems worked. If the Media Composer systems hadn't worked, we wouldn't have gone to Symphony," he explains. So, it followed that Creative Bubble would next add Avid Unity MediaNet shared storage to the mix. "It's the same as with our clients. If we mess up a project, that is an ex-client. There is very little margin for forgiveness in this business. So, the fact that Avid is still here and keeps coming out with new products is testimony to the fact that it succeeds."
< Back