WKYC, Cleveland, Ohio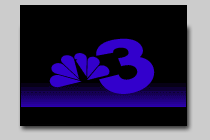 When Gannett recently decided that it wanted to test the digital newsroom waters in Cleveland, Ohio, it chose Avid to make that happen at NBC affiliate WKYC.
Working with an aggressive timetable, Avid succeeded in bringing the station, located in the United States' 15th largest television market, one step closer to a completely digital system. "It was a really significant change. WKYC went from tape-based editing to virtually almost no use of video tape at all," explains Jim Frantzreb, broadcast product marketing manager for Avid.
Avid's Challenge
The challenge presented to Avid was to implement a digital system that would increase WKYC's productivity and quality of work, without increasing the size of the staff. The solution included two Avid Unity for News systems, one with 13 Avid NewsCutter Effects editing systems, the other with 22 Avid NewsCutter XP editing systems (both included two terabytes of storage, Avid Unity MediaManager, and Avid Unity TransferManager); two Avid AirSPACE play out servers; and an Avid iNEWS newsroom computer system.
Adding to the challenge, the move to digital at WKYC needed to happen over a condensed period of time. "They had an aggressive schedule. We agreed to it, with a two-step training and installation plan, so that they were trained and ready to go when it went live. Ultimately, we got them on the air when they wanted to be," says Frantzreb.
Currently, the Avid AirSPACE server is being used for play out, thereby eliminating the need for videotape to play to air. WKYC staff can easily switch between live and stored segments. WKYC can use the second Avid AirSPACE server for ingest, taking feeds from the network as well as other locations, such as a remote van.

Where the reporters used to write their story, send it along to craft editors and not see it until it went to air, they can now follow it—and contribute to it—throughout the entire editing process thanks to the Avid NewsCutter XP systems on their desks. "Every journalist and reporter is able to edit," explains Frantzreb. Further enabling workflow is the ability monitor the content, query, and control the Avid AirSPACE servers from any PC, including the Avid NewsCutter systems, using applications called Avid LaunchPad and MissionControl.
With help from Avid, WKYC's editors and writers quickly took to the NewsCutter system. "Plenty of training was provided, yet for some users, the day they went on air was the first day they really edited finished pieces on these systems. In other words, they were cutting news the first day," says Johnathon Howard, a senior broadcast solutions architect with Avid.
Deadline Dealing
No matter how great the tools are, no one—not even Avid—can do away with deadlines. "In broadcast news, the train leaves at 6. If you're not on the train at that time, you're not on air. There are always going to be pressures and breaking stories. What we do is we make it easier for them," says Howard. "In addition to speeding up workflow, the new system has had a less tangible but equally important effect," adds Frantzreb. "It has given the station's reporters the time and confidence to do more in-depth work. That makes for a much better story."
Cost Cutters
Something else that has everyone—especially management—smiling is the ability to link stations together using Avid Unity for News. By using this feature, the company could potentially save millions of dollars in satellite fees, since satellite hook-ups are no longer needed to transfer video feed and other rich media from station to station. Remote bureaus are effectively linked to the station, able to access and use the same media. In fact, the Avid Unity for News system can support up to 50 simultaneous editors accessing the same high-resolution media simultaneously, and the system even allows for Web-based transfer of remote media to the central workgroup.
Ultimate Flattery
According to Frantzreb, "WKYC was getting ready to make the move to a brand-new facility, so the timing for a new system couldn't have been better." The move appears to be a resounding success with six other Gannett stations expected to dive in with similar systems by the end of 2001. "Company executives have been 'very impressed' with the easy transition to the new systems," says Howard, who adds that "the fact that they are expanding to more stations is the 'ultimate flattery' he and others at Avid could receive."
< Back